This Recipe Blog post was written and Created by Calm Eats. All of these beautiful photos were created and taken by Calm Eats. Please go to Calmeats.com and experience amazing food art.
6 minutes Total Time 16 minutes
Ingredients
2 6oz cans St. Jude Dill Tuna
2 eggs, beaten
1/4 cup peeled chickpeas
1 tbsp chives + 1 tsp
1/4 tsp ground pepper
2 tbsp avocado or extra virgin olive oil
1/2 cup mayo
1 tbsp fresh dill, chopped
zest of 1/2 lemon
1 tsp lemon juice
2 tsp Dijon mustard
1 tsp chopped capers
Instructions
Combine mayo, dill, chopped capers, lemon zest, lemon juice, mustard and chives. Set aside.
Combine tuna, chickpeas, eggs, 1 tbsp chives, pepper and form into 20 small patties.
Pre-heat pan on medium-high and add oil.
Cook Dill Tuna and Chickpea bites for 3 minutes per side until golden brown.
Add to papertowel lined plate for 5 minutes.
Serve with Lemon Dill Sauce. Can be served warm or room temperature.
These simple Dill Tuna and Chickpea Appetizer Bites with Lemon Caper Mayo are quick to make, delicious and are perfectly fine served hot or cold. And can easily be turned into an entree.
These simple Dill Tuna and Chickpea Appetizer Bites with Lemon Caper Mayo are quick to make, delicious and are perfectly fine served hot or cold. And can easily be turned into an entree.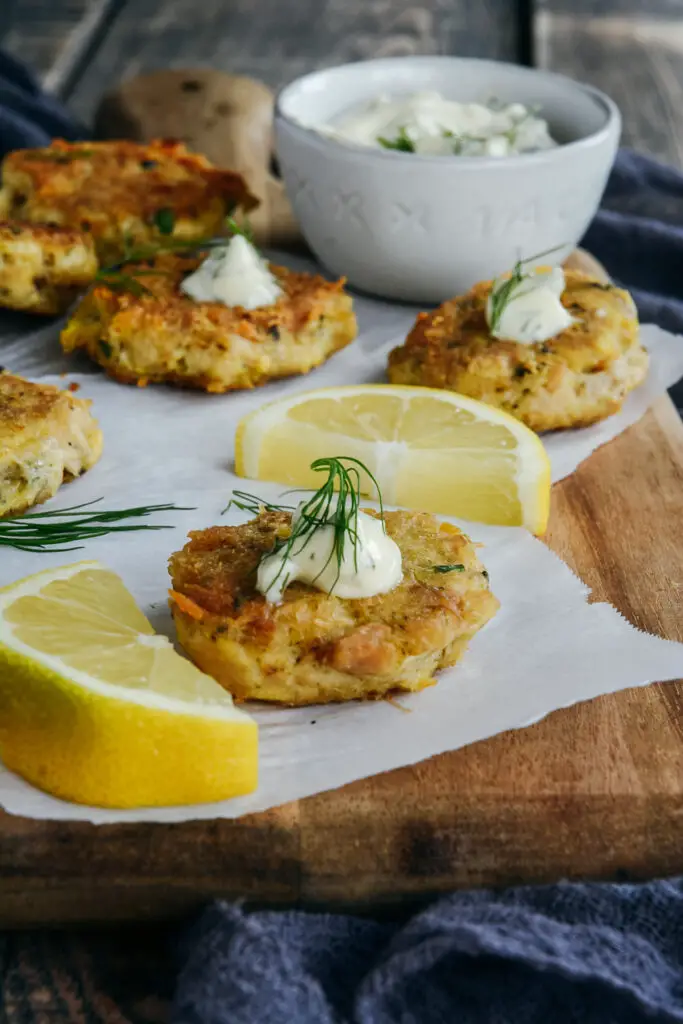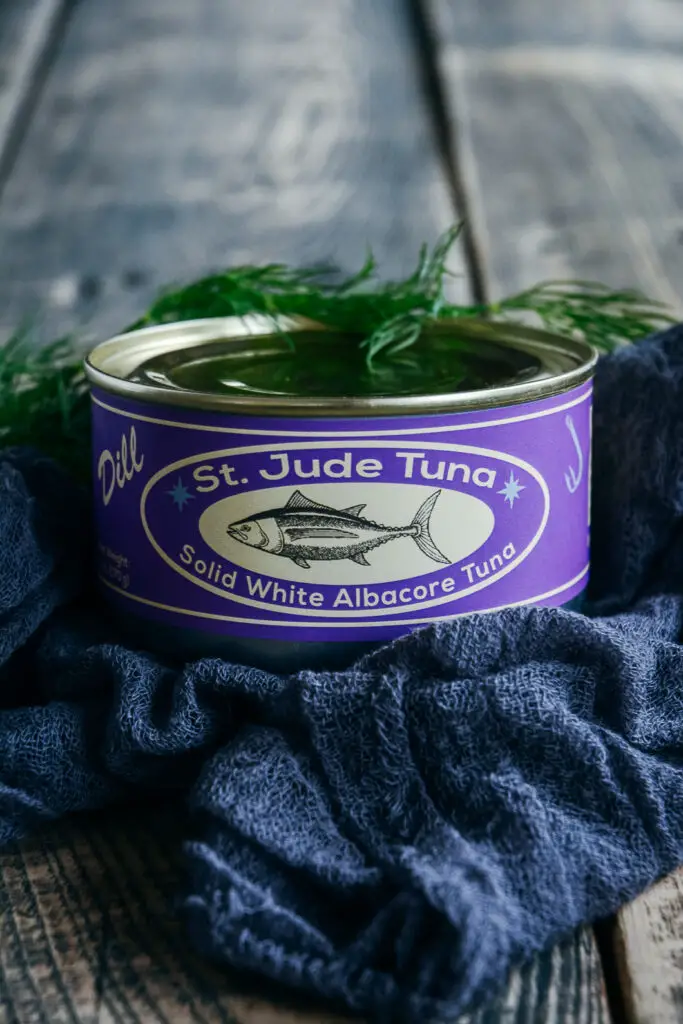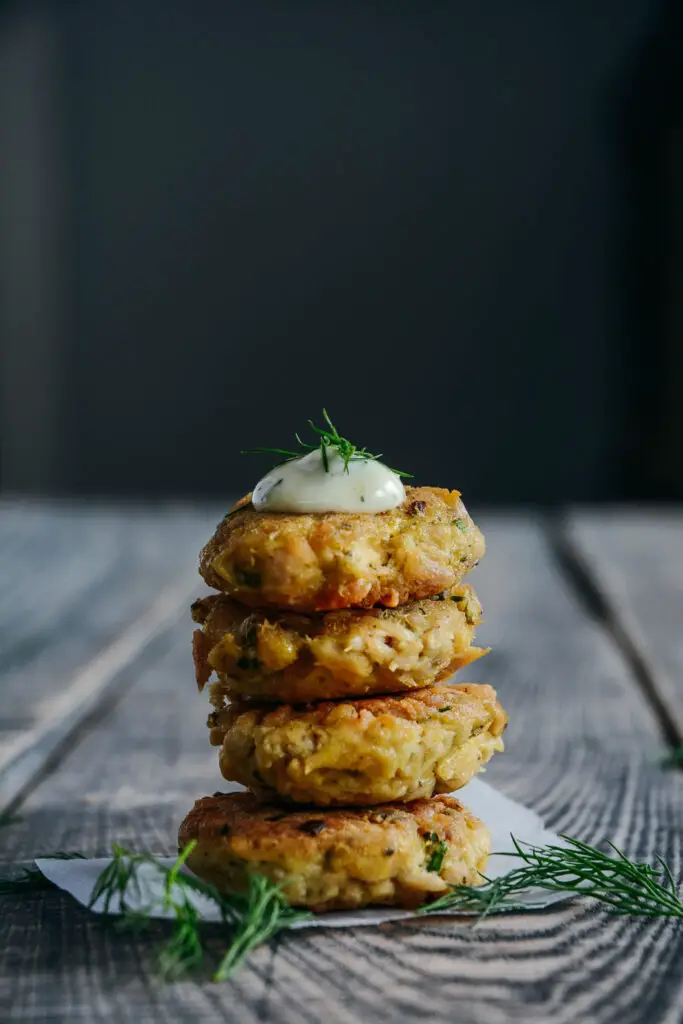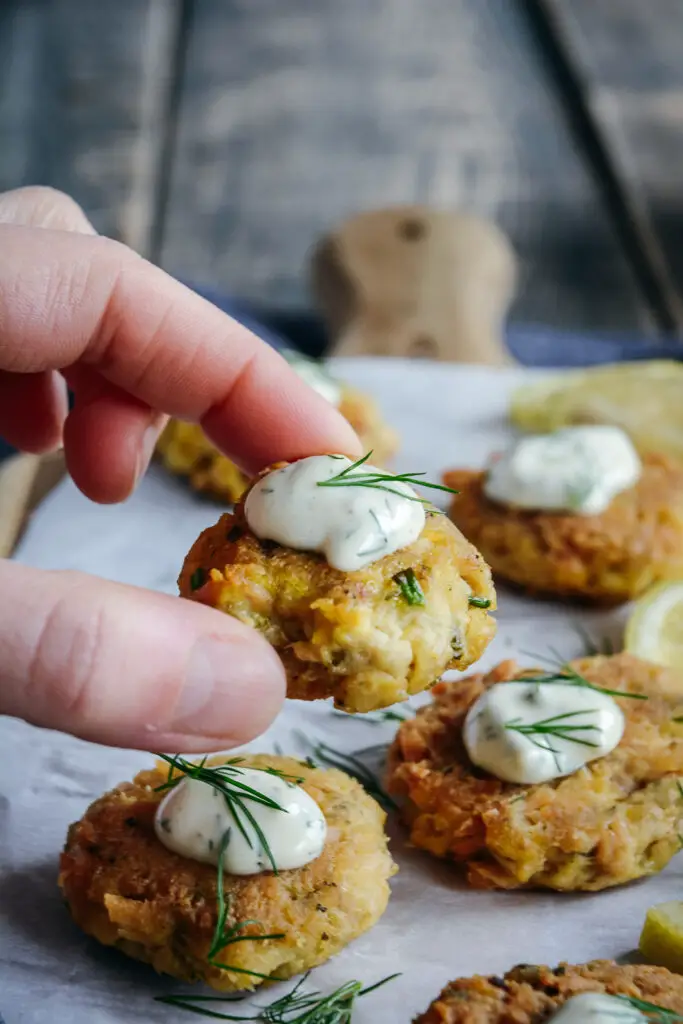 It is irrefutable that canned tuna is one of the best and most convenient foods around. It is versatile, delicious, nutritious and makes for a quick meal. There is something quite comforting when I have a pantry stocked with it. Because as is often the case, when I haven't prepared well enough or don't feel like cooking, a trusted can is always at the ready to save the day.
But all canned tuna is not created equal and this makes all the difference. Every time we talk tuna, we can't leave out a factor that is of inevitable concern – mercury. But this is why I've partnered once more with the fantastic people at St. Jude Tuna. They are conscientious about the way their tuna is caught and where it is caught. The tuna is also consistently tested for mercury and the "results have established that the average level of mercury contamination in our products has always been substantially less than the threshold of 1 ppm established by the Food and Drug Administration."
This is one of the reasons that attracted me to working with a company that focuses on sustainability, small scale production, human health as well as the health of the ocean to produce a canned tuna that stands in a league of its own.
I've experimented with several of their canned tuna and they are all spectacular in their own way, but as an absolute lover of dill, I fell head over heels for their Organic Dill Tuna. It is the most flavorful tuna fish I've ever tried and works incredibly well in today's recipe. So without further ado, let's talk about these tuna and chickpea bites.
These dill tuna and chickpea appetizer bites are:
easy to make
quick
perfect as an appetizer or entree
low carb
grain-free
gluten-free
dairy-free
high in protein
provide the RDV of selenium intake
a good source of Omega 3 Fatty acids
What ingredients do you need for dill tuna and chickpea appetizer bites with lemon caper mayo?
This is what I love about making appetizers from ingredients you likely already have in your pantry and fridge. For these tuna and chickpea bites you'll need 2 cans of St. Jude Organic Dill Tuna, eggs, peeled chickpeas (we'll get into that in a little), chives, mayo, lemon, dill, capers, and lemon.
Why do you need to peel the chickpeas?
Because we're only using 1/4 cup for this recipe, they will take you just a few minutes to peel. The reason is, we want a smooth consistency to the tuna bites. If you leave the chickpea skin on, it will add an unpleasant texture to the patties. Besides, once the chickpeas are crushed and smooth, they will act as our binding agent along with the egg. That's why these patties won't require any flour at all.
Tips for making dill tuna and chickpea appetizer bites with lemon caper mayo?
The most important part about these tuna bites is to break up all the ingredients as much as possible and combine them really well. The chickpeas can be either freshly cooked or canned but the important part is to run them under a little bit of warm water to soften them before peeling.
Once peeled, place them in a large bowl and mash them as much as possible with a fork until they're a mushy consistency. Even if they're pulverized some, that's okay – you're on the right track. The same with the canned tuna, break it up as much as possible until the pieces are quite small.
The best mayo for the lemon caper mayo
I may be biased here, but I think homemade mayo tastes best. To this day, I have yet to find a brand that stands up to the real taste of homemade. If you have a food processor and 2 minutes, you can make your own. Check out the recipe here!
If not, use your favorite mild tasting brand that doesn't have too much-added flavor to overpower. This will ensure you're getting all the flavor from the lemon, dijon, capers, and dill.
Best oil for cooking the dill tuna and chickpea bites
My favorite oil for cooking is avocado oil as it stands up well to heat. But if you only have extra virgin olive oil on hand, that will work well too. Just be sure to preheat your pan quite well so the patties sizzle the moment they touch the oil.
Once you've finished cooking the patties, let them rest on a paper towel-lined plate for a couple of minutes.
Should these dill tuna and chickpea appetizer bites be served hot or cold?
That's the beauty of this recipe. These bites can be turned into a hot entree and served with your favorite side or can sit at room temperature as an appetizer. They taste delicious whether hot or room temperature. Or if you have leftovers, straight out of the fridge!
No matter what variation you choose, I hope you love these amazing tuna and chickpea bites as much as I do!